The Day Has Come…
Thursday, April 27th, 2006
Well, it's official.  I have become a "soccer mom."  I knew it was only a matter of time.  After all, I am married to a big time soccer coach and he and I both played the game when we were children.  My daughter began Pee-Wees last night.  We got her all dolled up in her red and white soccer unit and she looked every bit the part of the star soccer player.  She was excited for the game and the opportunity to make some new friends, and a bit nervous from not knowing what to expect.  It ended up being a lot of fun for all of us.  She had a blast on the field doing her drills and then playing in the 3 vs. 3 pick up game at the end.  If it's possible to run with a smile on your face, that's exactly what she did for an hour.  Her dad and I beamed on the sidelines, gave her water when she was thirsty, offered the occasional pointer or bit of praise, and took an extraordinary amount of pictures.  We had a blast watching her and I can't wait to get back my 2 rolls of film!
You'll have to stay tuned to see what kind of projects I create with these pictures.  The wheels are turning…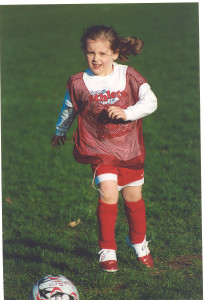 _____________________________________________________
Customer Testimonial
Monday, April 24th, 2006
It is nice to get feedback, all kinds of feedback.  There is the feedback that enables you to do things better the next time around.  It's not always easy to hear that kind of feedback, but it definitely has its place in the e-commerce world.  Positive feedback is particularly enjoyable to receive, however.  It is nice to hear kind words about something that you either spent a lot of time working on or something you feel passionately about.  Designing scrapbooks for other people can sometimes be tough…it is hard to gauge whether or not they will love the final product as much as you did.
I was thrilled to receive this feedback about a book I designed.  Especially since I create each book with as much care (if not more) than I would if it were my own.
"Everyone who enters my home automatically gravitates straight for the scrapbook made by Jenn of Watermelon Rind Designs.  The cover itself, featuring a photo of my family's log cabin in Vermont, is a work of art, worthy of displaying front and center with my other personal treasures.  Yet, its texture and sense of warmth invite everryone to pick it up and share the memories within.  Each page showcases a picture, personally customized with high-quality, unique scrapbook materials which compliment and enhance the subject matter in the photograph; not overwhelm it.  My favorite is a peaceful, gorgeous shot of tall pines, each bough covered in snow. Jenn chose the caption, "MAGIC" to encapsulate the aura of that picture perfectly.  Watermelon Rind Designs has a flair for subtly, but beautifully accenting my most beloved pictures and portraits, capturing the moment and the emotion that I wanted it to exude!"
–Linda B. of Carver, MA
_______________________________________________
Looking Back
Friday, April 21st, 2006
Watching my children every day makes me think a bit about my own childhood.  It's strange, because even though my children are the future, they have this uncanny ability to make me conjure up images of the past.  What memories do I have?  What did I wear? What were my favorite activities?  What were my everyday routines?  I very rarely scrapbook myself or document any of my life…I am too busy working on books about my children.  But, I came across this old photo of me (taken at a concert at Tanglewood with my parents, I think) and seeing those long braids and that goofy smile was like a trip down memory lane.
Some of the things that came to mind: reading Nancy Drew mysteries, camping with my family at the beach, my mom making pink pancakes on Valentine's Day and green milk on St. Patrick's Day, knickers and Dr. Scholl's, hopscotch, penny candy when it really was a penny, playing Little League baseball, "un"birthdays, concerts, spending summers at Demarest Lloyd State Park…I could go on and on.
Those were good times.  Reminds me of the poem "To a Butterfly" from William Wordsworth:
We'll talk of sunshine and of song,
And summer days, when we were young;
Sweet childish days, that were as long
As twenty days are now.
___________________________________________________
Congrats to the Winners!
Tuesday, April 18th, 2006
Thought I would give a quick shout out to the winners of the WCCC silent auction this morning.  I don't know who you are yet, but I am confident you will love our products and won't be disappointed.  That baby basket is such a great gift item…chock full of handmade goods that are useful, a bit whimsical, and totally touchable for baby.  Have you felt that baby blanket yet?  I wish they made clothes that were as soft as that blanket (hey, I might be on to something here)!
I also can't wait for the winner of the custom shadowbox to come forward! It is going to be an honor to take your treasured photos and memorabilia and make them come to life.   It will be a pleasure to meet you!
______________________________________________________________
It Grows Back, Right?
Saturday, April 15th, 2006
Well, I did it.  I cut my hair short again.  I was feeling a little tired of the same old 'do.  It was getting kind of scraggly and I wanted something a bit fresh and updated for spring. I didn't intend to cut it this short…I really didn't.  But, my hairdresser suggested something that looked like Rebecca Romijn Stamos' new 'do…and, well, who wouldn't want to look a bit more like RRS?!  So, he snipped, and he snipped, and he snipped some more.  And then he dried it and he flipped it, and it felt cute.  And bouncy.  And young.  I didn't feel the least bit like RRS.  But after all, he gave me a haircut, not plastic surgery.  However, I did feel a few years younger and I was all too willing to put the elastics and bobby pins away for a while.
The verdict at home…my husband loves it.  He prefers short hair and when me met, my hair was
s-h-o-r-t!  So, he is happy. My youngest daughter looked at me as though I was a total stranger this morning…she was half asleep and perplexed and her tiny eyebrows scrunched up just so as she inched her way towards the back of the crib.  She warmed up after a couple of seconds.  My oldest daughter got a sneak peek before bed last night and told me she loved my new hair cut as I tucked her in.  However, this morning (and for the entire day) she has taken to telling me that I look like "Hannah Montana's brother."  Lovely.  Just the look I was going for.  My mom came to visit for a while today and gave her stamp of approval.
Thought I would include a picture so you can judge for yourself!
______________________________________________
Lovin' It

Wednesday, April 12th, 2006
I don't know what it has been like in your neck of the woods, but I am loving the spring weather over here in New England.  We have pretty much gone from drab, dreary and drizzly to sunny, warm and breezy.  The bulbs are out, the spring flowering trees are blooming, the grass is greening up and the birds are chirping.  It's nice.
I've been toting the camera around with me more often and trying to take some spring shots.  Looking for some inspiration, some color palette ideas for crafts and orders, and just trying to get as much fresh air as possible.  Got some "signs of spring" shots and thought I would share.  Enjoy!
_________________________________________________________
What a Monday!
Monday, April 10th, 2006
Typically, I am not a big fan of Mondays.  It means back to work, back to school/daycare for the kids, and the weekends never really seem long enough.  This Monday has been the best Monday in a long time.  It is my sister in law's birthday today. We won't get to see her – we live too far away, but we are thinking of her and wanted to give her a shout out for a great day.  I hope she takes some time for herself…she works too hard and could seriously use some R+R.
Today is also the day when I found out I am going to the Dave Matthews concert at Fenway Park in July.  You have no idea how excited I am about this!  First, because I am a HUGE DMB fan. Second, because I think seeing them at Fenway Park is going to be awesome (think about the post-concert scrapbooking opportunities; Fenway is so steeped in tradition and is such a cool place; and if you've never been to a DMB concert, the people watching opportunities are exceptional).  Third, because I am seeing the show with a great friend…we have seen no less than 8 DMB concerts together and we always have the best time.
Normally, I wouldn't mention concerts or things like that on this blog, but I wanted people to think of a couple things today.  Think about your friendships.  There are people in your life who you love spending time with,who make you a better person, who compliment who you are.  Thank those people.  Send them a card, pick up the phone and give them a call or send them an email telling them you were thinking of them.  Also, think about music.  What kinds of music are you drawn to?  Is it a certain artist or genre?  What music do you listen to when you are happy or sad?  Think of your predominant memories.  What kind of music was tied to those events?
Music and friendship…a great mix.  Shawn, thanks for being you.  Dave Matthews aside, we have a lot in common.  You keep it real, you make me smile and I am so lucky that our paths happened to cross!
________________________________________________________
The Perfect Gift
Saturday, April 8th, 2006
There are a lot of occasions coming up…religious holidays, Mother's Day, and Father's Day, to name a few.  We have been branching out on our product lines and coming up with custom creations for these special occasions.
We created an amazing gift basket for a baby shower (including one of our sumptious, durable blankets, a bath gift set with embellished towels and wash cloths, burp cloths decorated with grosgrain ribbon, and an assortment of bath products to get baby squeaky clean).  All of these items were creatively displayed in a Nantucket basket…it was a gorgeous gift and we hear it got rave reviews.  Please call or email us if you are interested in a gift like this.  We have a wide range of products that fit every budget.
Donations for a preschool fundraiser have us creating shadowboxes.  The winner will get a custom shadowbox creation from Watermelon Rind Designs, as well as a $20 gift certificate towards products on our Web site (a $150 value).  We can't wait to create the special gift for the lucky winner!
Take a peek at one of our custom creations. This box was hand painted and crackled for a vintage, shabby look. A bunch of pink silk dogwood flowers literally burst from the background.  Twill tape, and a cute guitar pick that says "sisters" complete the backdrop. Coordinating chipboard letters spelling "XO" adorn the frame.
There isn't a mother or father around that wouldn't love a gift like this.  Place your order today so you can present a loved one with the perfect gift on their special occasion.
____________________________________________________
April Observances
Sunday, April 2nd, 2006
April is a busy month.  There are lots of family birthdays: my father in law (today); my sister in law (10th); and my oldest daughter (20th). Happy birthday with love to all of them!
April is a month of reflection for us as well.  Today would have been the 7th birthday of my friend's daughter, a SIDS baby (Sudden Infant Death Syndrome).  So, it is only fitting that I pay tribute to this sweet little angel on her birthday.  Her life, cut far too short, taught us all quite a bit about love, loss, and perserverence.  After all, it is through new life that we learn about the magnitude of death.  I have the utmost admiration for her parents.  They have channeled their pain in positive ways, made a difference in the lives of other SIDS parents, and are survivors in the true sense of the word.  I love them and I admire their courage.
There are many worthwhile causes that we support, either through our time, monetary donations or education. April is National SIDS month.  Please consider taking the time to educate yourself about SIDS and either make a donation to support SIDS research or reach out to a family who has been affected by SIDS.  You could also join us in September as we participate in the SIDS Road Race in Hingham, MA.  Email me if you would like more information.
You can also create a tribute page in your scrapbook.  I made this one 4 years ago…it is a picture of my dear friend and her 2 surviving daughters on the day of the SIDS Road Race in 2002.