Conversations
Friday, March 31st, 2006
Did you ever have a conversation and know that, in time, you will want to remember the details?  It could be a discussion with an elder about life in their time.  It could be a piece of your past, told to you by a parent.  It could be a stolen moment with a loved one where you talk about your dreams for the future.  Or, as in my case today, it could be a frank discussion with your 4 (almost 5) year old daughter.  It started as a question from her: "Mom, when I am at other people's houses, can I watch Bratz shows?"  This stemmed from the fact that we don't allow any of those products in our house, but every kid her age seems to have one of these scantily clad, promiscuous-looking dolls. My response: "When you are a teenager, you can watch things like that at your friends' houses, okay?"
My response prompted a conversation about what my 4 year old thinks she will be doing when she is a teenager.  Despite my insistence that teenagers like to sleep later in the morning and often have to get dragged out of bed by a parent, she believes that she will still want to wake up no later than 5 a.m.  I told her that she will be old enough to get a job and then will have money to buy some of her own things.  She responded that she will buy plenty of the aforementioned Bratz dolls, lots of make-up, and jeans with rips in them and glitter on the bum.  She was excited to learn that she will be able to stay up until 8 p.m. to watch the Zach and Cody marathon on the Disney Channel.  And, when I told her that she would be old enough to move out on her own in 15 years, she responded by saying that she is not ever going to move out because she loves us and doesn't ever want to miss us that much.  Sniff.
Tip for today: Conversations like that don't happen too often.  When they do, you should write them down.  Record them on a piece of paper, in your journal, or make a scrapbook page about them.   I called my voice mail and repeated the conversation so that I wouldn't forget.  15 years from now when my daughter is a completely different person and has different views on us as parents, I will definitely want to remember this moment of innocence, sincerity and pure adoration.
Happy Friday!
______________________________________________________
Today, I Will Remember
Wednesday, March 29th, 2006
A few years ago, there was no detail that I couldn't remember.  Every occasion was tattooed on my brain and every milestone my oldest daughter reached was recorded without fail. Fast forward to life with a full time job, a fledgling business, and 2 rambunctious children and there are some days I am lucky I remember my middle name.  Sometimes it bothers me that I cannot remember when my eldest learned to write her name, when my youngest got her first teeth, or what the contractor's name was that messed up our gutters.
So today, I vow to pay attention to the details.  Today, I will remember how my girls snuggled together on the couch and watched Higglytown Heroes while I was working on the computer.  I will remember how, not 5 minutes later, there was pinching and yelling.  I will remember how they both yelled "NO KISSING!" when my husband tried to give me a kiss goodbye.  I will take note of the early spring sky and the warmer air and I will see how my spring bulbs are doing.  And later, when I am done working, I will take pictures of the kids playing outside.  Because, if I eventually forget, the pictures will serve as a reminder and the memories will come rushing back.
My challenge for today is: Take note of the details of your life, just as they are right now.  Take pictures on a typical day – don't wait for a holiday or a special occasion to break out the camera.  Keep a journal (or a blog).  Don't just record the happy moments…the pinching and the yelling will make for an equally colorful story later on. My challenge for today is to remember, in whatever way works for you.
_________________________________________________
Relaxed and Recharged

Sunday, March 26th, 2006
Every once in a while, it's nice to get away.  My husband and I went away for a night (sans kids) this weekend. He booked us a room at the Captain Lord Mansion in Kennebunkport, ME.  We highly recommend it…the rooms were exquisite, the food was delicious, and it was the perfect place to recharge our batteries.  We had a couple beers at Federal Jack's Brewpub, ate dinner at Alisson's Restaurant, watched some college hoops (arrgghh B.C.), and retired in our cozy canopy bed.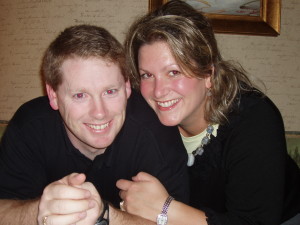 On the way home we dawdled on Route 1, poking in and out of antique stores and boutiques.  I used to love doing that, but it is an indulgence I rarely partake in anymore – toddlers and antique stores do not mix.  For obvious reasons, I am drawn to anything with a watermelon theme.  We found an amazing wall hanging in York.  It is so perfect for my "office" and I love the saying.  It makes me smile.
If you happen to come across any unique, whimsical watermelon themed items in your travels, send me an email and let me know.  I am always on the hunt.
Have a great week!
_______________________________________________________
You're All Invited…

Monday, March 20th, 2006
…to view my invitations.  Everyone should have received them in the mail by now, so I don't think I am ruining any surprises.
These are the invitations for my daughter's birthday.  It will be a sports theme with games, contests, and prizes.  Relay races, shooting a soccer ball on net, wiffle ball, pinata – that kind of thing.  She is psyched, and oh-so-competitive, but she is still pretty girly, so I wanted the invites to be a mix of the two.  I did 2 different versions…a soccer version and a baseball version.  I'm sure it will be a day full of photos and scrapbooking opportunities.  Stay tuned. And, send me an email if you are interested in having Watermelon Rind Designs create invitations for your special day.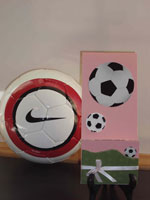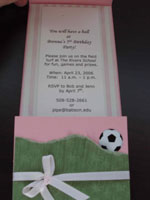 ______________________________________________________________
Hallmark, Watch Out!

Saturday, March 18th, 2006
Happy belated St. Patrick's Day.  Now, if you know me at all, you know that I love working with paper.  A few of my joys are writing, scrapbooking, and altering everyday items with scraps of paper.  I wish there was more time in the day to be creative!  This week, I've been busy crafting lots of handmade cards for our spot in York Village, ME.  The cards will retail for between $2.50 and $6.50 each.  We have lots of themes:
Hello
New home
New baby
Maine vacation themed
Love
More…
Check out a few of the samples below.  Also, stay tuned for photos of my daughter's birthday invites.  I didn't want to post them on the Web until I was sure that all the guests received them in the mail.  Thanks for checking in and have a great weekend!
______________________________________________
I Rose To The Challenge
Tuesday, March 14th, 2006
It took me a few days, but I finally rose to the challenge.  I took inspiration from my daughter's painting and created a scrapbook page.  I wanted it to be fun, colorful and simple…much like the painting.
Let me tell you what I did:
– black and white photo from scrapbookpictures.com (they can add  text directly to your photo – so cool!)
– I used different cardstock: a bright red on the top, black in the middle, and a fun polka dot on the bottom
– red organza ribbon
– bright red button
– red chipboard heart and ghost shapes from Heidi Swapp
– a little hand written journaling and VOILA!
Did you rise to the challenge yet?  If you did, leave a comment on the blog or send us your work.  We'd love to hear from you!
P.S.  Bright red tulips were an impromptu gift from my husband today (and so perfect for my backdrop).  Thanks, hon!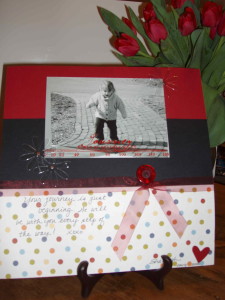 ___________________________________
Invitation Time
Monday, March 13th, 2006
I make my own invitations.  I know there are perfectly good store-bought ones out there, but I prefer to make my own.  I like the creative outlet, the originality of a hand-made invitation, and well, paper-crafting is what I do.  I spent some time yesterday afternoon picking out the supplies for my daughter's birthday invitations.  She is turning 5 and this is the first time we are having a "kid" party.  I am excited about the party – it will be fun to watch my daughter with all her friends.  Over the next couple of days, I will be creating the invitations and addressing the envelopes.  Check back to see what I come up with!
P.S.  If you want Watermelon Rind to create invitations for your special occasion, simply fill out our contact form and we will do the rest! Pretty soon, you will be able to order custom invitations directly from our Web site…we are working on it.
________________________________________
Spring Fever
Saturday, March 11th, 2006
I am one of those people who gets spring fever.  I get it bad.  When I was a little kid, I couldn't wait to bust out the knickers and Dr. Scholl's and play hopscotch.  In high school, you would see me on the softball field, playing shortstop with my sleeves rolled up and sunglasses on.  In college, spring signaled a lighter courseload, lots of parties, and afternoons spent working on my tan lines and listening to my Walkman.
Today is going to be 60 degrees and sunny.  My husband (a high school coach/athletic director) will be home on a Saturday for the first time in 6 months.  I'm sure the neighborhood will be bustling with children and the sounds of bikes, scooters and stomping feet.  We are all chomping at the bit to be outside.
My tip for a day like today: enjoy the day; take some pictures; get some fresh air.  You can scrapbook or journal about it later!
_______________________________________________________
Daily Inspiration
Wednesday, March 8th, 2006
Sometimes I am inspired to write or scrapbook or create a project from an everyday item. It might be a color scheme that catches my eye or the placement of graphic design elements in a magazine.  It could be the lyrics to a song that jostle something some creative force from within.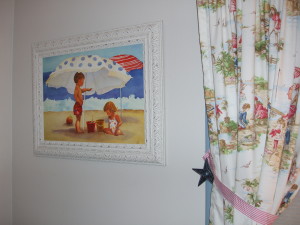 Today, I am inspired by a painting.  I love this painting.  And I love my mom for buying it.  We saw it in a store in York, ME and I was instantly drawn to it.  The perfect accessory for Shaylagh's room – it matches her curtains, it highlights all the great colors in her room and the white antiqued frame is the perfect compliment to her vintage furniture.  I tried to justify the purchase and couldn't –I have taken a much more practical (and frugal) approach to shopping since having children.  My mom has a different attitude, the if-it-is-perfect-you-will-never-find-it-again-and-you-live-two-hours-from-here-and-you-will-spend-hours-trying-to-replicate-this-and-I-will-buy-it-for-your-anniversary-approach. I love her for that.  And, I love the painting. It now hangs in Shay's room and it is the first thing you see when you walk down the hall.  It is bright and beautiful and fun, much like Shaylagh herself.  And, my mom was right…I would have regretted not buying it, so I am thankful that she picked it up for me.
This picture is my inspiration today because as I brought Shay up for her nap, the early afternoon light hit it just so.  It made me smile as I covered my daughters "tootsies" and kissed her forehead.
My challenge for today: use the color scheme and create something with it.  A scrapbook page, a journal entry, a card for a friend or make your own painting.  I am going to take the challenge as well and I will post the final creation when I am done with it. Send me your designs…they could appear on the Web site. Have a great day!
______________________________________________
We're In Like Flynn
Saturday, March 4th, 2006
The trip to York, ME was a big success.  All of our items fit in the booth and we actually had more room than we initially thought, so we will be adding more product to the space in the coming weeks. We were thrilled with how the items looked and it was nice to see all of our hard work displayed in that one space.  Being a primarily Web-based business, you don't get to see that very often.  We typically make the product, photograph it for the site, sort it and then ship it out when we fill orders.  We don't usually get to see just how amazing our items look on display.
But, don't let us be the judge…take a peek for yourself.