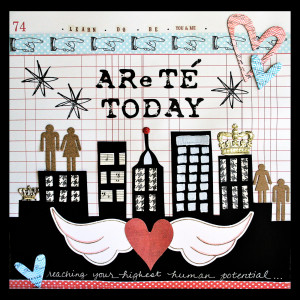 This episode of Areté Today was specifically recorded for teenage girls the world over. Prompted by things I am witnessing in person and online, I wanted to reach out. This is a way to support teenage girls directly, and also support the parents who love them and are helping navigate them through tricky waters.
This is a small way for me to let them know that they might be going through a particularly tough time in life and despite how it feels today, it WILL get easier.  It's about not buying into the lies that mainstream media would have you believe just to make a buck. It's about honing in on critical thinking skills so you don't have to take things at face value. It's about being yourself and being very careful about the information and the people that you let take up real estate in your brain and in your life.
It's about the world wanting you to use your head because it is your BRAIN that is the sexiest thing in the world. It's about not succumbing to peer pressure, having the courage to say no, and tapping into your inherent gifts so you can make the world a better place with your uniqueness.
And, finally, it's about putting away your cell phones with the three-inch screen and zooming out to the panoramic wonder that is around you all the time.  No chargers or electricity needed!
I hope you enjoy this episode. It is one of my most truthful, raw, and passionate ones to date. There is much more over in my expanded show notes, so head over there for additional ideas, bonus tips, and inspiration.
Share the love — the links are above.
XOXO
Jenn
Podcast: Play in new window | Download