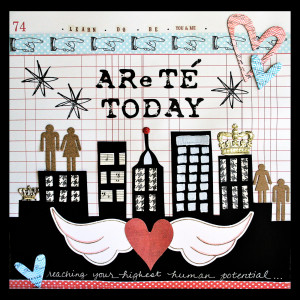 In today's episode of Arété Today, I get real about back-to-school shopping, dressing room degradation, and Target tantrums. Based on my recent experience of school shopping with my daughters, at least 60% of you will benefit from this advice and I have totally got your back. Before I get into the gory details, I want you to know that there is no judgment here—we are all perfectly imperfect when it comes to parenting and if you tell yourself you are not, you are lying.
I am talking to you today about my S.C.O.R.E. Method for parenting through stressful times; like the transition from summer to fall.  I go over what the method is, what makes it effective, and why it's an important sanity saver. Do you have a child who melts down in public? Do you struggle to find joy or gratitude in the mundane moments? Have you ever said something you regretted to your child and/or wished for a do-over? If so, this is a MUST DOWNLOAD episode.
Before I sign off, I also give a bit of information about my upcoming e-course for parents. It is going to be an online intensive—chock full of tips, tricks, and tidbits to help you navigate the complex, and often thankless, role of being a parent. You can find more information on that here.
Signing up for my newsletter will also ensure that you don't miss out on any important announcements.
Until next time—
Keep laughing, learning, and loving!
Peace!
Podcast: Play in new window | Download