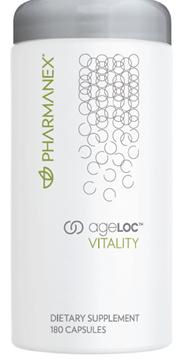 This is the time to put your skepticism aside, to embrace a scientific breakthrough so remarkable that we may not fully understand the magnitude of it for years to come, to take a few minutes to do some research and truly think about how many people you know that could be positively affected by this technology.
Surely, if you are associated with me, you have heard that Nu Skin has come out with the BIGGEST product launch in not only its history, but in the history of all network marketing. Over $5 million sold in less than 2 weeks. For the past couple of months, countless distributors have been dying to get their hands on Vitality so they could experience the power of this supplement — and I have been one of them. I have been hearing powerful testimonials about the way Vitality is changing people's lives for the better: better athletic performance, increased energy, fewer cravings for carbs and sugar, better quality of sleep, mental focus, increased libido, fewer aches and pains…the list goes on and on. People from 19 to 90 are feeling the effects and loving every second of it.
I got my first shipment of Vitality on Friday night. My husband and I both took our first doses on Saturday morning. This is a summary of our experience to date (I think you will find it very compelling):
JENN'S EXPERIENCE SO FAR:
Started taking Vitality on Saturday morning; didn't notice much difference at all – but I did make it through a really busy day with no soda and no snacks. I slept great that night – I was not awakened by Bobby's snoring and I didn't toss and turn.
Sunday: my eyes popped open at 5:15 a.m. and I was wide awake! That hasn't happened in a LOONNGGG TIME! I had a full day, including a big event in Boston that night where I didn't get home until after 11 – felt fine. Not exhausted. Not drained. Went to bed around midnight and slept very well.
Monday: Brenna woke me up at 6:45 and Bobby and I had an immediate conversation. Like, a coherent, interesting conversation. We don't do that – we typically mumble at each other. It's refreshing. I have not had a soda or a tea in 3 days…and I am not craving it. Had a busy day, worked until 10 p.m., went to bed at 11:30 and slept great again. I have not been bothered by Bob's snoring since Vitality — or maybe he hasn't even been snoring anymore.
Tuesday: despite the dreary weather, woke up feeling refreshed. I am noticing that my appetite has diminished and I am not craving unhealthy crap the way I usually do. My mid-day sugar cravings have been replaced with a heightened awareness for another kind of craving, which I will not discuss here. 😉 Bobby says I seem calmer. More relaxed. I feel like my skin has a nice, rosy glow.
BOBBY'S EXPERIENCE:
Saturday: He didn't have his first Mountain Dew until dinner time (very unusual for him) and he did not fall asleep on the couch when he got home from his soccer game at 7 p.m.  Again…VERY unusual. This is a guy that has a Mountain Dew in his hand by lunch time and he comes home and collapses, and often dozes, on the couch each night.
Sunday: Woke up early, very alert and cheery, managed to take care of kids, get Brenna to soccer, do dishes, finish a bunch of laundry, pick up the house, and work on computer until midnight. Normally, if I work and he is home with kids…I am cleaning up the tornado they leave behind and he is sound asleep when I get home.
Monday: it didn't take him the normal 20 minutes or so to roll out of bed and be coherent. He said he hasn't been eating his afternoon candy bar (normally a daily occurrance), but has been having a very late-day Mountain Dew "out of habit, not because I need it." He got home from work at 10 p.m. and still had a good deal of energy. He turned in at midnight and said he slept well.
Tuesday: Very wide awake this morning. Said he "felt good and really wants to start working out." Said he doesn't feel "slumpy" in the afternoon and feels "much more aware of his surroundings." Again, no candy…but a very late day soda, more out of habit than anything else. I am noticing that he is definitely more helpful around the house and more energetic at night.
Now, none of this may seem earth-shattering to you. But, if you think about it — you have two moderately sedentary people who — in a matter of four days — are saying that they feel like they have more energy and are more alert, are sleeping less (yet better), are eating less sugar and carbs, are interacting more at times of day when they are normally lethargic, and are actually craving exercise! This is truly exceptional! And, the results are just going to get better and better…I am looking forward to feeling better and better, younger and younger, and more and more healthy.
I want all the people I love and care about to try this product! There are two more days for pre-orders. If you need more information, please view the information at http://yourbeautifulfuture.liveandlookyoung.com/us-en/ and watch this amazing video about two very different mice. http://www.youtube.com/watch?v=pVaMZH5CC9s
Be youthful. Be energized. Be all-natural. Be vital. Be entrepreneurial! Be the mouse on the right!!