If you know me, or have been following me on social media, you know that our house was ravaged by ice dams last winter and the majority of our time between May—September was spent repairing and renovating our home. It was a really trying time for all of us. Our house is small, four of our six rooms were affected, and we lost use of both our girls' bedrooms, our dining room, and our kitchen for a couple of months. I griped a little through the process because my mortgage company held our money hostage (which makes it REALLY difficult to secure reliable contractors), timelines were not met, and things ended up costing far more than we were quoted—but mostly I was excited about the prospect of sprucing the place up and adding some color. If we're being honest here, this place I used to love so much had become an embarrassment and a burden and that had absolutely nothing to do with Mother Nature.
We had gotten to the place (all of us, kids included) where we would much rather go out than have anyone over. I would cringe if anyone showed up unannounced because the wallpaper was peeling in the kitchen, our tile floors were cracked, most of our ceilings and some major walls were now stained, cracking, or buckling from the water damage, the paint in 90% of the house was dirty and dingy, and our dining room carpet could have been used for a science experiment. Or could have gotten our house condemned. Either would be accurate. There was clutter everywhere and our front door was swollen and warped because of the ice dams…but we wouldn't have been able to open it anyways, for all the clutter that was blocking it.
All of this clutter was weighing on me. There was no joy when I walked through my front door. I couldn't seem to get ahead of it. Our house was clean in the sense that we vacuumed and dusted and Cloroxed regularly, but it was not neat and it hadn't been updated in 18+ years. As much as the ice dams were a colossal pain in the ass, they were also a silver lining because we had to empty out the house and start from scratch. I had forgotten how much fun it could be to pick out paint colors and redecorate. And how much fun it was to donate things and throw other things in the dumpster. Out with the old, ne'er used, and meaningless. The only things that came back in were the things that brought us immeasurable joy or served a purpose. Everything else was reassigned and/or relocated. We began to feel lighter, freer, happier, more relaxed. And I began to come to terms with the very strong realization that "stuff" does very little to make me happy.
Now that the POD and the dumpster are gone, we have been putting things back together. We rearranged the furniture in a way that gives us much more room and maximizes storage space to keep the clutter at bay. We picked bold and bright colors for the walls (our previous canvas was builder's grade beige all around). We invested in a pantry system for the kitchen which has been a total life changer (Thank you, Container Store). And, we are putting things on the walls that evoke nostalgia and smiles; what was previously a very dark "Americana" canvas has become a lighter, brighter nod to things that speak to our souls—like the ocean and family. (you can see some of the vignettes on my Instagram account).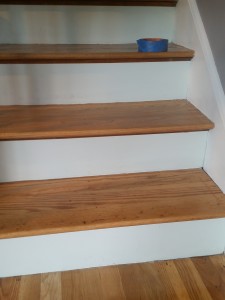 I have been waiting almost 6 weeks to add this touch to the house and today was the day. I found these decals on Etsy (@iinky shop) and I fell in love immediately. It could possibly be my favorite finishing touch, but I'm not 100% sure because I love so many things about the revamped spaces. When we knew we were going to be pulling up our carpet, I knew I wanted to do something special for the risers. I thought about painting a mural like my friend Jane is doing, but it would have been too labor-intensive for me and would cost a small fortune to have someone else do. I thought about decorating with numbers like Kelly Rae Roberts did in her stunningly beautiful bungalow. But, those choices seemed kind of copycat-y and not exactly what I was looking for for ME.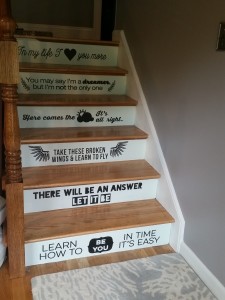 So, I went with this instead. It is an homage to the past; to growing up with this music and to our parents (the girls' grandparents) who we love so much. When I was picking out the lyrics I wanted, I thought of my husband, because The Beatles are his favorite band and this was something I knew he would appreciate (when I tell him I love him, he always says "I love you more"). I thought about his dad jamming out to Hey Jude one Christmas when he was trying to give the grandchildren some exposure to the classics. It is a finishing touch for my girls— inspiration in song lyrics that they cannot really find in the music they listen to today. It is an artistic and decorative nod to everything we are and everything we hope our girls to be: mindful, present, courageous, brave, optimistic, and full of wonder. These are like six tangible guideposts that we pass by and walk over countless times each day. Touchstones. Visual reminders. Almost everything we need to know about life appears right here, in black and white.
Be yourself. Not always easy…but in time it can be more effortless.
Go within. The answers always present themselves. Let it be.
There is beauty in the broken. When you get knocked down, you don't have to stay down.
Everything is going to be alright. The sun is always in the sky, you just can't see it sometimes.
Dream. Wonder. Peace. We are all connected.
And, above all (hence the top step)…LOVE. It truly is all you need.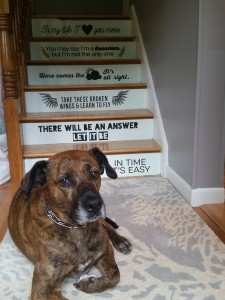 My daughter dropped everything when she got home today to take a picture of the stairs and post on her VSCO account (if it is VSCO-worthy, it has to be pretty cool). I think even Angus is digging the new and improved vibes under this roof. And, given that he is not a fan of the new hardwood floors, he is so grateful for a soft place to relax and rest his paws.
All in all, we are almost ready to start welcoming people in on a more regular basis now. It finally feels a bit more right.
Thanks for spending a few minutes of your time with me tonight.
Love,
Jenn
P.S. Head over to @iinky at Etsy if you are digging the decals as much as we are. She was a peach to deal with and her work is beautiful.
P.P.S. Sorry for the small pics. WordPress is acting all wonky tonight and I don't have the energy to play around with the back-end code.