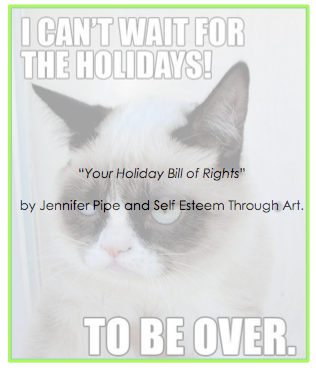 What is it about this time of year that makes people lose control? Is it the stress of the season? The expectations and obligations? Too much forced family fun without enough of a reprieve in between?
Despite experiencing my fair share of it, I am not one for holiday drama and histrionics. Fortunately, I've perfected a way to eliminate most of the theatrics from my holidays without having to be a recluse. I want to share that with you today.
If you've experienced any of the above, or if the stress of the season has your blood boiling, you will want to read on.
As a complementary gift from me, I invite you to download and print my 2013 Holiday Bill of Rights. It is a compilation of my Top 10 tips for navigating through the holidays with ease. Share the link with anyone you think might benefit from it. Remember — we are all in this together.
Wishing you peace, love, and joy as we say goodbye to 2013.
Act in love,
Jenn
(*Grumpy Cat image from http://www.freemake.com/blog/best-summer-memes-with-grumpy-cat/)