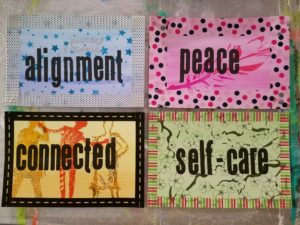 If you follow me and the Self Esteem Through Art brand through my site or via social media, you know that I have been preparing to launch my first ever online class for women. This is an arena I have wanted to be in for at least the past five years, and I finally decided this summer to stop procrastinating and making excuses.
I, along with my partner in this venture, Eileen from Body-Wise-Healing, have spent the better part of the past two months prepping, refining, and putting the finishing touches on our online Wheel of Life class. It has been such a tremendous labor of love for both of us! We created pdfs and visual aids, we purchased software that would allow us to broadcast to Facebook side-by-side from wherever we are in the world, we created a testing playground so we could put all the pieces together before launch and make sure all of the integrated pieces were playing nicely together, and we brainstormed and promoted. They say that each launch has over 200 moving parts…it felt like we eclipsed 300 when all was said and done!
We spent over 4 hours together last week simulating the environment and calling tech support to work out a few minor glitches. Having worked out the kinks, we felt completely confident in our delivery. Did I mention that I worked for 13 years as a digital marketing manager who created and launched Web sites for a local, #1 ranked, private college and a big part of my job was implementing digital technology? Or that I built my own Web site from scratch and occasionally create Web sites for other small businesses on the side (I built Eileen's Web site, as a matter of fact)? Great skills to have—and those skills make me the self-professed tech wizard in this online partnership with Eileen! My skills are invaluable in my own business, and in this venture in particular.
Today was launch day. 
And everything that could have gone wrong DID go wrong! 
Despite the repeated planning and testing, the two technologies didn't play nicely together and we ended up 30 minutes late to our own Webinar! (THE HORROR!) I couldn't find the glitch on my end. Tech support at the company we purchased the additional technology from couldn't find the glitch either. In the end, we settled for a satisfactory, yet clunky, workaround just so we could pull today's event off, with the understanding that I would have to call back and troubleshoot further (because this absolutely CANNOT happen again over the course of the next 8 weeks)!
I was sweating my ass off (literally…I was like a raging inferno of heat and nerves and embarrassment), but Eileen told me I handled myself really, really well. I think her exact words were, "I don't know how you did it. I would have hid under the table in tears!" All of our fears and our worst-case-scenarios came true today, much to our dismay. But in retrospect, I am kind of happy that this happened. We got the worst out of the way and it can only get better from here. This gigantic flub-up showed us that our imagined worst-case-scenario wasn't even all that bad. It allowed us to lead our group by example and recover after a monumental trip-up: they got to witness our fall in their ring-side seats, and they also saw us rise like the freaking determined, unflappable Phoenixes that we are!
I would be remiss if I didn't mention how supportive and gracious our class participants were! They made it a lot easier to fail in such a public way on our first day together and we are so (SO) grateful for their patience, encouragement, and support.
A couple of important reminders, lessons, and takeaways came from all of this:
Despite how much I loathed my digital marketing job by the time I quit in 2009, it really did prepare me for days like today. Technology is both a blessing and a curse and you HAVE to expect the unexpected. Even the best laid plans can fall by the wayside in any digital product launch! I spent 13 years cleaning up messes, placating unhappy clients, and meeting Herculean expectations…I was made for this!
In times of struggle and strife, it is really important that we show ourselves unwavering grace. We need to unconditionally love ourselves through any adversity. We can't beat ourselves up. We can't cower in fear. We can't use the struggle as justification for shrinking and shriveling. We simply put one foot in front of the other and keep on keepin' on. These were quintessential growing pains for Eileen and me today. They weren't the first and they certainly won't be the last. We showed up anyways. You should, too.
I often ask myself the question, "What is the worst thing that can happen and can I live with it if it does?" My worst fears came true today, and yes, I can live with that. What happened today was a by-product of my own growth and bravery. And what happens next week will make me braver still. I am done growing, only to experience the inevitable fall that causes me to shrivel and shrink back into comfort and ease. I know now that I can grow, fall, dust myself off, and then grow some more. The proverbial "two steps back" is not necessary, nor is it beneficial.
As we were struggling to come online in our group this morning, one of the women posted, "Peace is not the absence of chaos in your life, but being calm in its presence." Amen to that! What a great reminder! What a great testament to a person's character!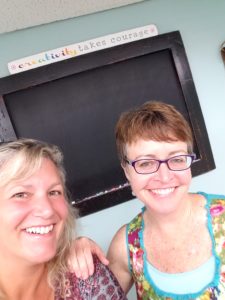 Eileen and I are going to leave the registration page for our Wheel of Life Empowerment class open until the end of the day on Sunday, September 24. It is not too late to sign up if you have been on the fence and want to be a part of something beautiful and scary and transformational. There are lessons and magic in every single day…even in technical glitches and failed product launches. Are you open to the magic and the wisdom? If you are, come join us!
With love,
Jenn
P.S. This is a picture of us BEFORE the shit hit the fan this morning. I truly, truly love having this woman by my side!  🙂